Our logo has four icons that represent love for your planet, money for your pocket, power for your home and glory for your deeds. In archetypal depth psychology, four symbols comprise the quaternity, which represents wholeness. Love, money, power and glory are rooted in deep emotions drive our activities and motivate us to pursue the lives of our choosing.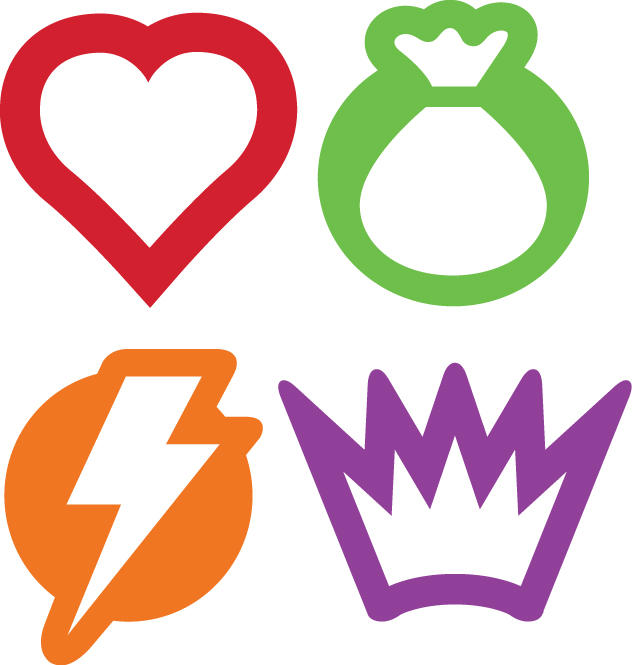 Before we developed our logo, and encapsulated these motivators in icons, we expressed the concepts in this video. We believes it still captures the essence of all who go solar. On the surface, we might consider the rational case for saving money, or fighting climate change, being independent from the utility grid or deploying the most advanced energy technology. But deep down, we also feel all of these things, and we know them to be true. Being solar is a joyful state.
"I see our savings." We understand "waste not, want not." We want our hard-earned money going to support the lives of the people that are important to us. We are motivated to save our resources. This is the part of us represented by the "investor" archetype, and symbolized by the green money bag.
"I see our lives." Being solar powered is a lifestyle. Solar panels on your roof is a status symbol. Solar powered people are trendsetters, leaders in their community and an inspiration for all. This is the part of us represented by the "glory" archetype, and symbolized by the by the purple crown.
"I see our independence." When you have solar panels on your roof, you may still be tied to the electricity grid, but you have achieved a degree of energy independence. The utility company has to treat you as an energy producer, not just a consumer. Add battery storage, and you can keep your food cold, lights on and laptops charged through the longest power outages. This is the part of us represented by the "power" archetype, and symbolized by the orange lightening bolt.
"I see our planet." Even before climate change emerged as an existential threat, people around the world were tuning into the cries of our swimming, flying, running, crawling and climbing relatives. Just as much as we are independent, we are interdependent. We are part of the complex web of life on earth. We are more at peace with ourselves when we are treading softly by producing our own clean energy from the Sun.
Love Money Power and Glory. The Sun. See Energy in a Whole New Light.