Richard "Butch" Deal, Jeremy Dobrzanski, Russell "Breighton" Dawe and David "Moto" Levine got together to sketch out some concepts that would form the basis of Geostellar's "big data geomatics" platform. They drew a cartoon of solar panels, buildings, trees, utility polls and the radiance paths of sunlight over the course of a day, month and year.
They new a bit about modeling and simulations from their work together on previous startups.
Butch and David met in 1993 when Butch was working for the Naval Research Labs, protecting their networks and systems from intrusion, and David was building his first start-up, HuskyLabs, an early web development firm that served such clients as the Coca-Cola Company, NPR, the Smithsonian and Times Mirror Corporation.
Jeremy joined in 1998 just as they came up with the idea to build a loan trading platform called Ultraprise for the secondary mortgage market.
After raising strategic investments from GE Capital, Citigroup, First Union and FBR, Ultraprise was preparing to go public in 2000 when the Internet bubble burst. The team merged with a competitor, sold the combined company and started over. This time, in the video game industry.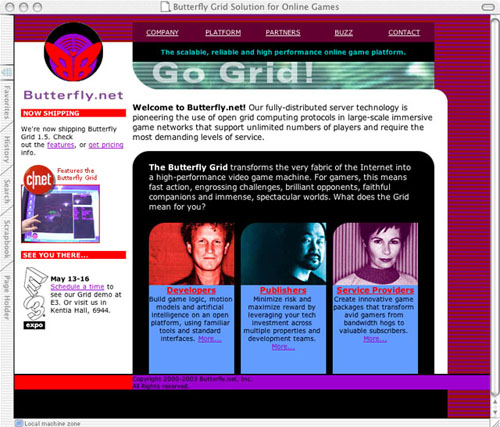 Brighton, who had created Paperboy, back when he was at Atari, moved to Shepherdstown to help build a cloud-based massively-multiplayer gaming platform that bridged video game consoles, PC, mobile and augmented reality, called Butterfly.net.
After raising over $10,000,000 from Worldview Technology Partners, Cisco Systems, JVP and Walker Ventures, Butterfly.net bought a competitor, NDL, morphed into Emergent Game Technologies, raised some more money and sold the combined company, now known as Gamebryo, to a Korean game publisher.
For Geostellar, they combined their superpowers to save the world from the worst effects of climate change by making solar energy plentiful and affordable.
Breighton wrote the algorithms to trace the Sun's radiance path over every rooftop.
Butch built a high-powered computing array to process and distribute the data.
Jeremy put it all together into an integrated Web, mobile and tablet platform.
And David raised over $20 million dollars to bring the solar platform to market.
Today, Geostellar supports homeowners across the country from a beautiful mission-style building in Martinsburg, WV, about an hour and a half outside downtown Washington, DC.
We have a great group of software engineers, project managers, solar guides, solar designers all working toward the same goal:
Speed the transition to clean, renewable solar energy.
We hope you'll join us in our mission.
Read the whole story at Solar Family, and stay tuned, for more exciting adventures. :)