We custom tailor the solar energy experience so you get the most qualified local installer, highest quality solar energy equipment, and most favorable financing plan that best meets your unique needs. In one respect, energy is a commodity, and our goal is to produce solar energy at the lowest possible cost so that you save the most possible money while meeting your electricity needs. In another, solar energy is a home improvement, and an installation should consider curb appeal and increasing home value.
Geostellar has unbundled the solar energy experience because every home is different, and every homeowner has unique requirements. Rather than push particular equipment, financing packages or installers, or make introductions and leave it up to you to decide, we take ownership from the start and apply one guiding principle:
"If this was my home, what would I do?"
Equipment
Solar installers serve as a dealer network for equipment companies, representing those manufacturers to property owners. They are typically loyal to one or two brands, which they get to know thoroughly, they order the equipment in bulk, store the components in warehouses and then push those brands on homeowners.
Unlike solar installers, Geostellar has a "just-in-time" supply chain. We order the right equipment for each particular home and have the equipment shipped to the installer just before the installation begins. This means you'll have the latest models at the lowest prices, and you can choose from the widest possible variety of options.
Solar Panels
We start with a look at your electric bills and your property, with the goal of designing your solar energy system to offset the most electricity possible, at the least cost, within the constraints of your site. The solar energy system should produce up to 100% of the electricity you use to save the most money possible while meeting your energy needs. Above 100% of your usage, and the utility company can pay wholesale, rather than retail rates for the solar energy you generate, making the installation less profitable. It's OK to oversize a bit, up to 120% of usage, in states with an active SREC market, as the SRECs will pay for the overproduction. This also accommodates performance degradation over time.
The selection of solar panels begins with the amount of space available to achieve your production goals. On rooftops where the buildable area is constrained with many different facets, dormers, vents and pipes, we might recommend high-performance monocrystalline solar panels that provide more power per square foot. If you have plenty of space on your roof or on the ground to install the solar panels necessary to offset your electric bill, we might recommend lower power polycrystalline panels, because they cost less per Watt of power than monocrystalline panels.
You might have other reasons to select a particular solar panel than price per Watt of power capacity. Some homeowners like the look of black monocrystalline panels on a black frame, or they want an American-made solar panel, even if it costs a bit more per Watt of power than the imported, blue-tinted polycrystalline solar panel.
In any case, the solar panels are selected to meet the individual needs of the homeowner for performance, cost, appearance and pedigree after consideration of the energy production and cost savings goals. Our most popular solar panels are Canadian Solar 260 Watt blue-tinted polycrystalline for sites with plenty of room and Solar World 285 Watt American-made, all-black monocrystalline panels for style-conscious, constrained spaces with high energy consumption. We're also proud to offer Trina, Suniva, LG and many other makes and models. Every one of our solar panels comes with a 25 year warranty from a "bankable" provider, meaning they can be trusted to service the warranty for the entire term.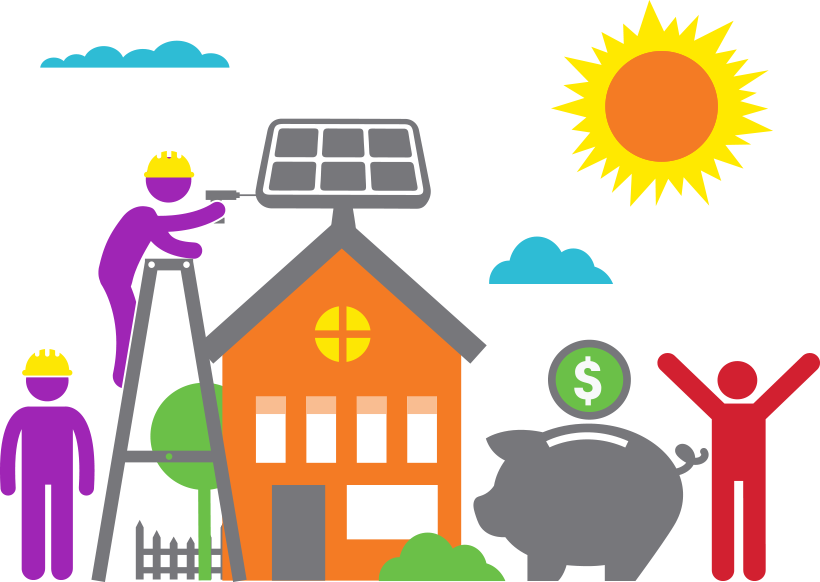 Inverters
Inverters take the DC energy generated by your solar panels and converts it to the AC energy required to power your home. Inverters are a critical component of your solar energy system, and the right inverter can make all the difference. String inverters collect energy from multiple panels and convert that energy all at once to the AC energy that flows to your outlets. Micro-inverters are located on each panel, and convert the electricity on the spot from DC to AC.
The debate between advocates of micro-inverters and string inverters has reached a fever pitch. Micro-inverter proponents point to the 25-year warranty, ease of installation and panel-level production control. String inverter fans comment on the "clipping" effect that occurs when you connect a micro-inverter to a high-capacity solar panel that produces more energy than the inverter can handle, the higher failure rate of micro-inverters as well as the higher cost per Watt of power.
With panel-level optimization, string-inverters seem to be winning mindshare and market share away from micro-inverters. Like most issues in the design of a solar energy system, we believe the choice of an inverter can only be answered in relation to your unique home.
We typically start a solar energy system design with a SolarEdge inverter and optimizers. In most cases, this will give the best performance at the lowest cost in partially-shaded environments. The optimizers separate each solar panel in the string, so that they produce the most energy possible based on the light that shines on the individual panel. Without optimizers, the performance of each panel in the string drops to the level of the panel producing the least energy. Optimizers also provide panel-level production monitoring, so issues with particular panels can be readily identified.
We'll recommend Enphase micro-inverters in specific situations, such as when there are many different roof facets with solar panels as well as partial shading, and will consider string inverters manufactured by Fronius and SMA based on the power requirements and the capabilities of specific models.
Racking
Our favorite racking system for a standard composite shingle roof is the IronRidge 1000 series. The rails are particularly durable, allowing for longer runs with fewer roof penetrations. We typically use Quickmount PV mounts to connect the racking system to the roof. Quickmount PV has been an innovator in tight connections that keep out moisture and prevent leaks.
Solutions from Unirac and other manufacturers are considered for ground mount systems, flat roofs, tile roofs, slate roofs and other surfaces.
Financing
Geostellar offers a wide variety of financing options to meet your unique needs. As a general rule, we look for the financing plan that will save you money from day one, will save you the most money over the life of the system, and will add the most value to your home.
Loan Financing
When considering a loan, most homeowners look for the shortest possible loan term that also lowers their total monthly electricity expenses, including any remaining utility bills and their solar loan payments, from day one. For some homes with plenty of sunlight in states with expensive electricity such as California, Connecticut, Massachusetts and New York, this might be a 12 year loan. In other states, this might be a 20 year loan.
With a solar loan, you own the solar panels, so you get free electricity for the life of the solar panels once the loan is paid off. In most cases, solar energy systems will produce for at least 30 years.
With solar loan financing, because you own the solar panels, you also get to keep all available incentives, such as tax credits, rebates and SRECs. Solar installations financed with loans also increase home value, because the asset will transfer to the new homeowner. The increased value is based on the potential energy production remaining in the solar energy system. So if you sell your home, you'll pay off the balance of the loan and make a tidy profit!
Geostellar offers loans in every state of the country from several providers, including Service Finance and Admiral's Bank. Loan terms range from five months to 20 years, with interest rates from 2.99% to 5.99%. Most loans are unsecured, though secured loans are available for homeowners with lower credit scores. Loans can generally be secured with credit scores of 580 or above.
Power Purchase Agreements and Solar Leases
Geostellar also offers "third party financing" in the form of Power Purchase Agreements ("PPAs") and leases. With PPAs and leases, the solar energy system is owned by the financing company and the homeowner pays for the electricity produced at a rate that is lower than the cost of conventional electricity from the grid.
Some homeowners will choose a PPA or lease because it won't raise their total "loan to value" ratio, leaving equity available for other loans or purchases. PPAs and leases are also popular with retired homeowners who can't take advantage of tax incentives.
PPAs and leases do have some drawbacks. They can be difficult to transfer to the buyer during the sale of a home. They also do not increase the home value. In most cases, a credit score of 680 or above is required for a PPA or lease. Unlike solar loans, PPAs and leases might also contain escalators, raising the amount you pay for your lease each year.
Geostellar offers leases and PPAs from a number of providers, including One Roof Energy and NRG Energy. We will help you find the lowest rate and most favorable terms if you choose to finance with a PPA or lease.
Cash Purchase
If you have the funds available, and you're most interested in a return on your investment, a cash purchase is generally your best bet. Your solar energy will be free for the next 30 years, while utility rates will keep rising year over year.
PACE Financing
Financing providers in a few parts of the country are starting to offer Property Assessed Clean Energy, or PACE. Right now, PACE is mostly available in California. In PACE financing, your new solar energy system is assessed as part of the value of your property, so the PACE loan is highly secured and collateralized. This can lead to lower interest payments. Geostellar offers a number of PACE loans where they are available.
Installation
Once your solar energy system design is complete and financing secured, Geostellar will send a locally licensed installer to verify the design. The installer will take measurements, inspect the main service panel and look for obstructions that might affect the design.
Geostellar recruits experienced installers with long track records in the industry, impeccable references and required licensing, bonding and insurance, including $1,000,000 of general liability insurance.
Our installers are genuine craftsmen who take great pride in their work. They are residents the local communities in which they perform installations, and will be available if the need arises.
Because of the high volume of installations we generate, and because we provide the solar energy system designs, monitoring and customer support, installers give our customers steep discounts on the installation costs.
Summary
By integrating the highest performing equipment, most favorable financing and most qualified installers at the lowest possible price, Geostellar provides the best value for the homeowner. With our One Million Dollar Solar Guarantee, there is no reason to look anywhere else.
Relax! You found us. Now let's tailor a solar energy system just for you and your home.
We promise to ask ourselves the same question every day, "If this was my home, what would I do?"